Here at Heyokha, we spend a lot of time analyzing Chinese tech and ecommerce opportunities, and most recently have focused on the disruption of the brick-and-mortar retail space by Chinese tech giants.
They have been driving innovation and vertical integration in the retail space. So, when we recently had a chance to visit Chengdu and Chongqing, we jumped at the opportunity to see some of the new retail concepts for ourselves.
Unmanned store concepts
In the heart of Chongqing, we stumbled upon a bright orange freight container that turned out to be an unmanned convenience store called "Wow!".
The concept is backed by SF Holdings (002352 CH), a US$ 30bn Chinese logistics company listed on the Shenzhen stock exchange. Having never been in an unmanned store before, we took the opportunity to see how it works. Here is how to shop:
Step 1: Scan the QR code with your WeChat app to enter the shop;
Step 2: Pick the desired RFID-tagged items from the shelves;
Step 3: Place the items inside a basket at the payment terminal, which then causes a screen to list the items in the basket and the total price;
Step 4: Scan the QR code to pay using Alipay or WeChat pay.
Simple and Fast.
While unmanned stores may have first been envisioned by Amazon, they have become one of the latest trends in China. Several start-ups are now operating unmanned convenience stores, like BingoBox and Well Go.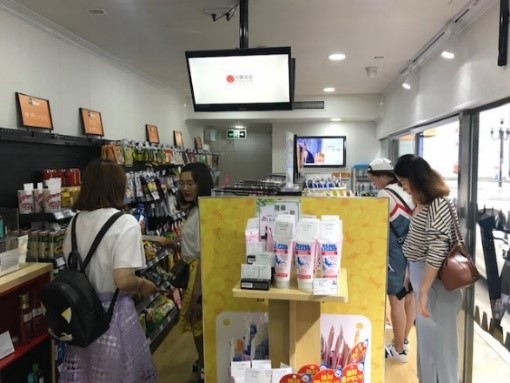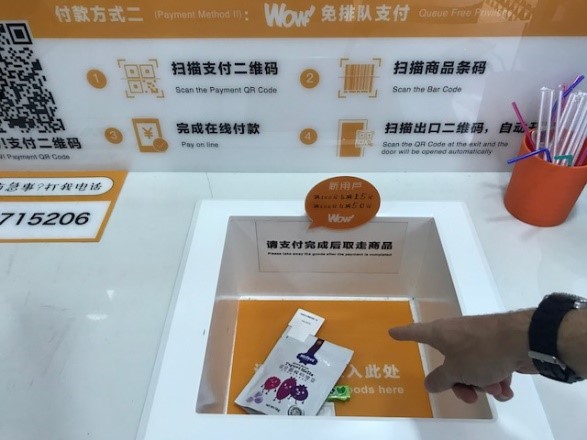 Unmanned store concept in Chongqing called Wow!
Currently, BingoBox is the biggest chain, operating about 200 stores across 29 Chinese cities. It seems that investors buy the story: in January 2018, BingoBox raised US$ 80mn fund led by Fosun Capital.
New supermarket format: Yonghui Super Species
We also checked out another innovative retail concept called Yonghui Super Species. It's operated by Yonghui Superstores (601933 CH), one of the largest Chinese supermarket chains that has both Tencent and JD.com as shareholders.
This new concept combines shopping with dining, allowing customers to choose their favourite ingredients, such as salmon or prime beef, which are then prepared for in-store dining.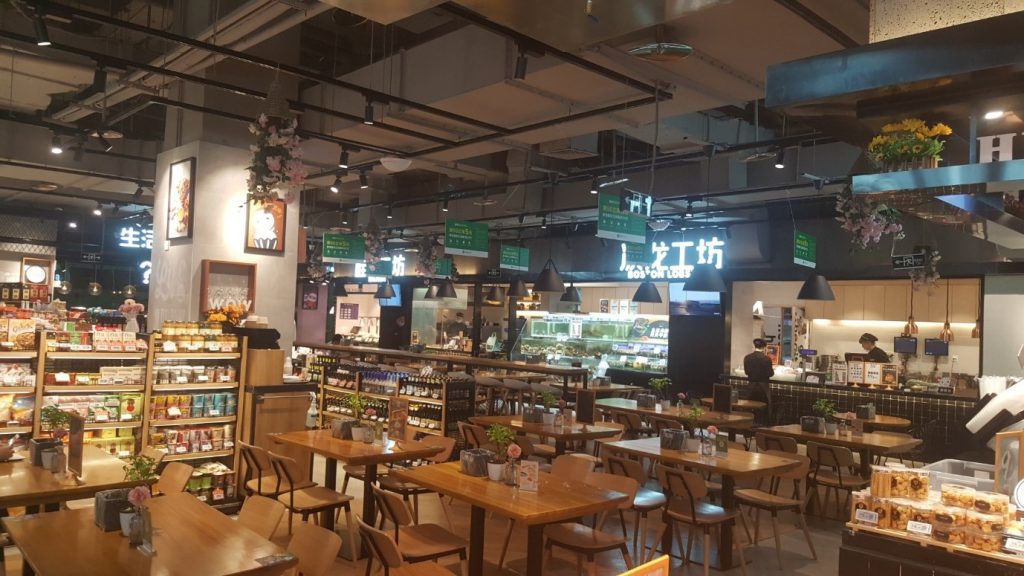 Yonghui Super Species backed by JD.com and Tencent
The concept also leverages technology to enhance the shopping experience. For example, WeChat can be used to obtain product information by scanning the product QR code. The app can also be used to check-out without the need of visiting the cashier.
Products can be ordered online, and – while we haven't tried it – in-store videos displayed the option to have the products delivered via drone.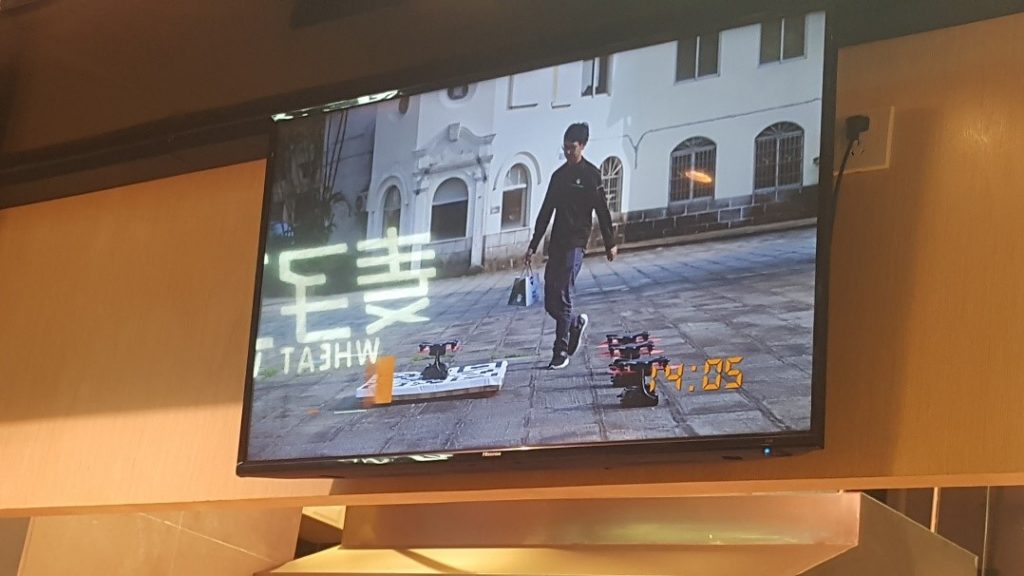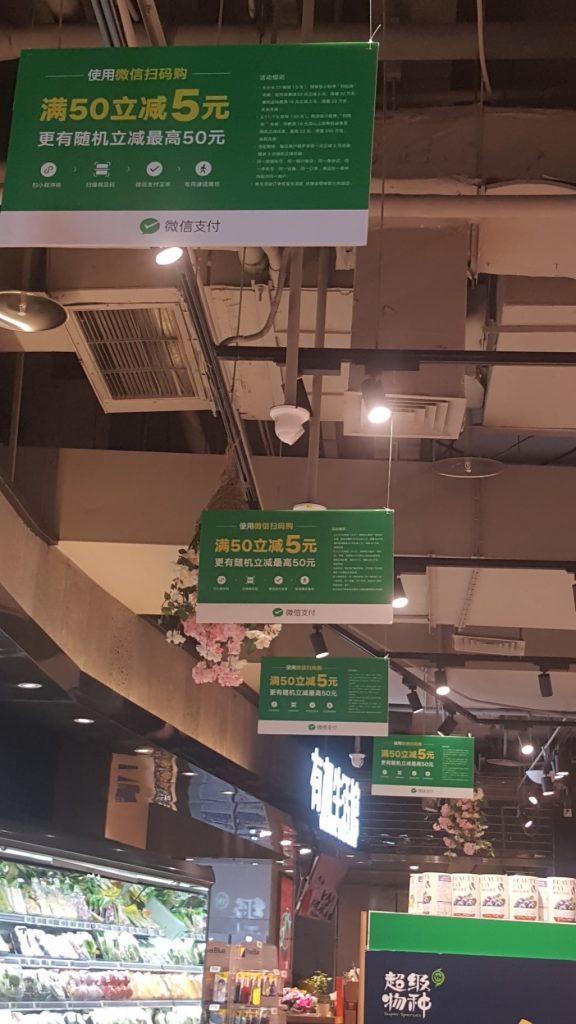 In-store screen showcasing product delivery by drone (left) and a WeChat Pay promotion (right)
The Yonghui Super Species concept will be a key element in the company's expansion strategy, going head to head with competition from e-commerce and Alibaba's "New Retail" strategy that aggressively bets on the integration of online to offline commerce.
Leveraging of pop-and-mom stores by JD and Alibaba
During our stay in Chengdu, we spotted a number of JD convenience stores. With this new concept, called JD Xintonglu新通路, the company aims to bypass the multi-layer network of distributors and agents by selling the products of brand owners directly to consumers via a network of JD branded mom-and-pop stores.
Adopting a franchise model, the company plans to roll out 1mn convenience stores in the next five years.
We also came across mom-and-pop stores that serve as pick-up points for Cainiao, Alibaba's logistics arm. We visited one of these stores in Chongqing and it seems this would be faster and cheaper to roll out as compared to smart lockers (a locker where the customer can pick up their e-commerce delivery), particularly in the suburban and rural areas.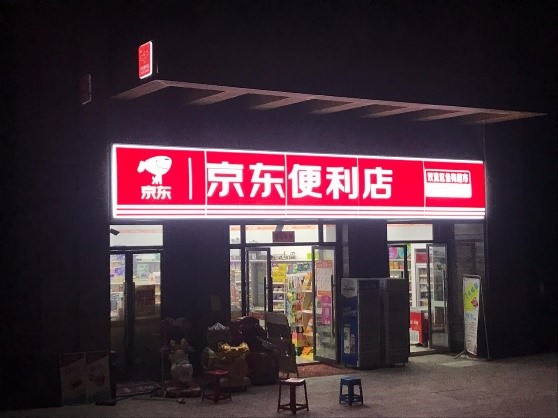 Mom-and-pop stores in China that partnered up with JD (left) and Alibaba (right).
Interestingly, the trend of bypassing the multi-layers of distribution and leveraging on retail network as an e-commerce collection point has also started in Indonesia.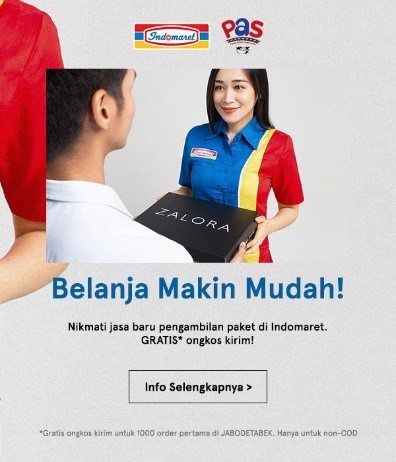 Mom-and-pop stores in Indonesia that partnered up with Alfamart (left) and Indomaret serve as collection point of Zalora (right).
Undoubtedly, the one who is able to bypass all the distributors and agents is the biggest retailer. In the case of Indonesia, that would be the minimarts. Alfamart, Indonesia's leading minimart chain, supplies directly to these traditional shops ("warung") at Alfamart's purchasing price plus logistic costs.
Currently, Alfamart has partnered with more than 80,000 warungs. This collaboration has won the approval from the government and the hearts and minds of the SMEs while allowing Alfamart to gain valuable insights about spending patterns in the traditional channel.
Meanwhile, Indonesian apparel e-commerce, Zalora is leveraging on Indomaret, another Indonesian leading minimart chain, as a collection point.
First "unmanned" JD store in Indonesia
Excitingly, we also learned that JD recently opened its first unmanned convenience store in North Jakarta, Indonesia. The store is located on the third floor of PIK Avenue, a brand-new shopping mall situated in an affluent area that is popular for its great dining options.
Upon arrival, we noticed the store received great interest from mall visitors, with at least a dozen people inside the store, despite the requirement of having a JD app installed on our smartphone. This app is linked to our credit card.
The JD unmanned store in PIK Avenue, Jakarta, Indonesia
Except for the store interior design, we noticed many similarities with the Wow! Store in Chongqing. In both store concepts, identity verification and payment process are conducted through an app on our phone. Meanwhile, the products that we intend to buy are identified using RFID tags.
The major difference is in the check-out process. In the Wow! store, we need to place the products in a basket/box before it is added to our digital shopping cart. Whereas in the JD store, we simply carry the items and step into a small room called the Scanbox, saving us from the hassle of putting our products into a specific box for checkout.
Having said that, the Wow! store was truly unmanned, while we counted at least six employees in the JD store. So, that's not so unmanned for an unmanned store….
Understandably, they need some staff to assist customers as the concept of unmanned convenience store is very new in Indonesia. Nevertheless, it should be moving towards a purer unmanned model in the future.
JD's products were competitively priced. Pringles crisps were sold for IDR 12,000, while the same product is being sold at Indomaret, one of Indonesia's leading convenience stores, for IDR 22,500. This represents a 47% discount!
The JD store also offered a popular snack, Malkist Crackers (Malkist Rasa Abon Sapi) for IDR 7,000, 10% cheaper than Indomaret's offer at IDR 7,800. Obviously, the attractive price could be one of JD's marketing tools to lure customer to shop in their unmanned convenience store.
Obviously, an unmanned store also means fewer people can be employed. While we are not sure that the government will support such a non labour-friendly store, the unmanned concept nevertheless has emitted plenty of buzz. At the very least, it is a great PR exercise for JD.
Wrapping it up:
It is apparent that the Chinese tech giants are not only carving up the digital space in China and beyond, but have also set their sights on the physical retail area where they are driving both innovation and the integration of supply chains.
By having exposure/presence in physical retail, Chinese tech giants will get a better picture of the wider retail market. We believe this initiative is still largely underappreciated given that it is still in the early stage.
However, looking at the speed at which new technologies are adopted in China (i.e. e-wallet's QR code and bike-sharing), we would monitor "New Retail" initiatives very closely.
With the presence of these Chinese tech giants in Indonesia, we would not be surprised to see a similar trend of online/offline convergence in Indonesia.
The latest move by JD in Indonesia indicates that the trend towards new retail has already begun…
Whether Indonesia will soon adopt many unmanned stores or not, the trend towards "New Retail" concept will only accelerate from here.