While having a getaway from a tumultuous year of a volatile market, one of our team members decided to share his bitter and sweet experience while enjoying delicacies in two different restaurants. The story reminds us of maintaining an underdog spirit to avoid being complacent and getting spoiled. The story in his own words is as follows:
The tale
I recently visited a gorgeous restaurant in Jakarta. The place was busy again after the Covid hiatus. I was so delighted to see the restaurant making a strong comeback, and I was also elated to recognize that we are supporting a local business that had fought Covid and won.
Almost everything about the place has gone back to normal. However, that, unfortunately, includes the poor-mannered and unhelpful staff. How did I forget about that?
Despite my colleague's warmhearted gestures like making jokes and chatting friendly with the restaurant staff, they gave us a stiff face. We certainly felt that the staff acted like they were doing us a big favour by interacting with us. Others sought ways not to have to do much while pretending to be hardworking. When the wrong food was delivered to us, no apologies were offered, not even in the most basic form.
How could this happen? Is the restaurant staff not grateful for our support?
Maybe they are not aware of it because the restaurant is busy once again. Maybe because the restaurant staff did not have to do the heavy lifting to make their business successful. The location is superb and the design is first class. The hardware is great.
The problem is with the software. We understand that the restaurants under the same group are not nearly as bad. If anything, the service is known to be outstanding. In other places, however, the hardware, the place, and the design were not nearly as good as for this particular restaurant.
Sometimes the gorgeous hardware, or the ecosystem, works against you. Perhaps it's too easy for complacency to set in when people would come anyway, thanks to the restaurant's unique setup.
A few days later, during a holiday in Bali, my family went to dinner in the quiet Sanur area. The restaurant we picked looked gorgeous (now a negative word in my mind) from the outside. But this time around, I did not expect much after the previous experience described earlier. Maybe my defense mechanism kicked in, attempting to manage my expectations after a massive disappointment just days earlier.
To my pleasant surprise, the staff working there were adept, fully engaged, and movingly knowledgeable. No one was glued to their phone. Instead, they were super disciplined, yet very friendly. Their smiles were genuine, even when we did not attempt to make jokes.
The food was no disappointment either. The duck was juicy, and the sauce complemented it very well. It was not too fatty but it did not lack fat. The eggplants were also outstanding. It was soft, tender, and packed with amazing flavours. Even the dessert, cheesecake with mango toppings, did not fail to bring out joy to my table.
Later on, I learned that the restaurant was initially part of a big-name hotel. It is now completely separated and they needed to survive on their own with no more ecosystem support from the big-name hotel. The food was great and tasted even better with such a good service.
The name of this splendid place is Naga Eight. Considering that they just re-started, maybe it's still too early to tell what will happen in the future. If they can maintain the "day-one" spirit, I think it could one day be a dining institution in Bali.
With the "day-one" mindset and full acceptance that one has no support from any big ecosystem, suddenly Team Naga Eight stops rehearsing their limitations: they have been granted the chance of a lifetime.
Companies' value creation starts from the people
In Indonesia, many investors are eyeing technology companies as they started to populate the public equity market. We find it quite often that investors overweight their tech stocks investment consideration for the ecosystem and may slightly overlook other aspects of the business as a result.
While the tech ecosystem may provide a better chance of winning as it provides a captive market that may translate into faster and cheaper user acquisition, it is not a necessary nor a sufficient condition for success. As in the tale of the two restaurants, the ecosystem may provide a comfort zone that could be counterproductive for the company's growth like a spoiled child knowing there will be a divine hand to lift them.
The only way to reduce such risk is by paying more attention to the management team's execution capability and their attitude towards the game. Like a horse race, it takes both a good horse and jockey to win the race.
If we recall the blitzscaling stories of new-economy companies that are worth hundreds of billions or even trillions of dollars today, a major part of their success can be attributed to the management's attitude and character instead of just where the company come from. After all, a company is run by the people.
In the industry where there are numerous cases of David and Goliath, the threat of the underdogs should not be taken lightly. Their hunger for victory is what we are looking for. Underdog companies are more likely to question the way they conduct business and more willing to reinvent themselves while ecosystem players tend to be more constrained by their patron.
In start-up companies whose profits are often still imaginary, management team spirit is indeed a reality.
Last words…
The story of Naga Eight reminds us of a scene from Dark Knight Rises (2012). The hero of the story Bruce Wayne (the Batman) successfully made an impossible jump to escape the Lazarus Pit Prison after numerous failed attempts only when he did it without the rope that keeps death away.
Only when he knows that failure is not an option, he can exceed his limitations and achieve the impossible.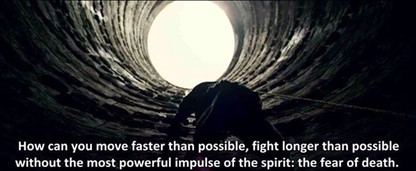 Doctor                  : "You do not fear death. You think this makes you strong. It makes you weak."
Bruce Wayne      : "Why?"
Doctor                  : "How can you move faster than possible, fight longer than possible,
                                without the most powerful impulse of the spirit? The fear of death."
Bruce Wayne      :"I do fear death. I fear dying in here while my city burns.
                                And there's no one there to save it."
Doctor                  : "Then make the climb."
Bruce Wayne      : "How?"
Doctor                  : "As the child did – without the rope. Then fear will find you again."