What we learned from Ramayana's 2016 annual report

A passionate fundamental investor would devour annual reports like warm pastries, as it is a great way to get to understand the company, its sector, its management and financials.
A good example is how much one can learn from reading the annual reports of Ramayana Lestari Sentosa. We find their 2016 annual report very candid and thought provoking. When comparing it to the annual report of 2015, it tells us a lot about how management's attitude has changed and about the turnaround process that is going on at the company.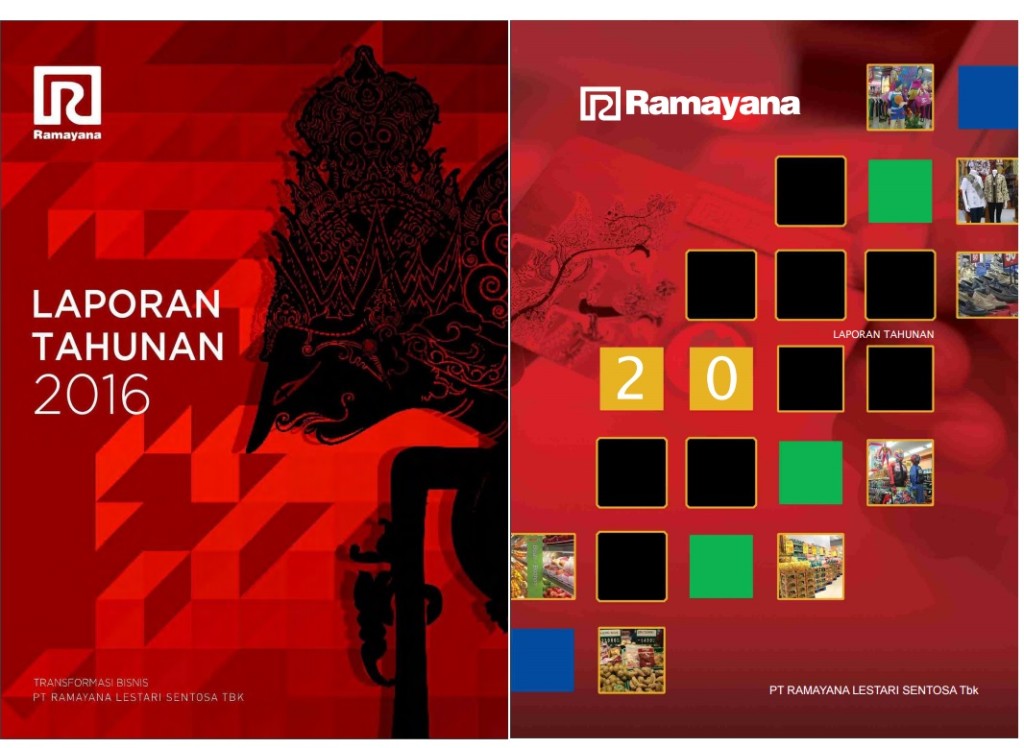 Before we discuss further, it is good to know that Ramayana – which once was a darling of investors – became a fallen angel after many years of complacency and (resulting) loss of connection with their customers.
Interesting quotes from Pak Paulus Tumewu, Chairman of Ramayana:
In light of that, let's take a look at an interesting quote from Paulus Tumewu, the founder and Chairman of Ramayana Lestari Sentosa (please note that since the 2016 report was only available in Bahasa Indonesia at the time of writing, so we are doing a loose translation here):
"In 2015, we found out that our top line did not grow, and this happened not only in our stores in the major cities. To drive more traffic to our stores, we have tried discount, special prices, and more advertising spending – yet none of those efforts managed to stimulate sales and profit. It seems like our traditional customer base has abandoned us."
To us at Heyokha, the fact that the founder is stating that their customer base is abandoning them an ultimate wake up call. Recognition of the problem is the first step required for a turnaround. Better late than never.
"In 2016, a brave decision has been made to open ourselves up to contemporary influences, to fine tune with young generations' new taste…"
On their cooperation with Dutch supermarket group SPAR, Pak Paulus doesn't hold back:
"Frankly, we have been trying to improve our supermarket business, including through foreign partnerships, but we haven't yet come across the right strategy and approach. Let's hope that the partnership with SPAR will be profitable for both parties. With a heavy heart, we have to report that within the first 10 months of collaboration (with SPAR), the supermarket business made a loss of 70bn rupiah…"
It sounds like Ramayana is open to exploring a new strategy and approach to turnaround their supermarket operation? We will monitor this closely.
Interesting quotes from Pak Agus Makmur, CEO of Ramayana:
Interestingly, comments made in the 2016 annual report by Pak Agus Makmur – the CEO of the company – are equally candid and admitting a tough reality. This is a marked departure from the company's old style, so we quote some of his admissions below:
"…our image has been deteriorating and we were considered obsolete and old fashioned."
"Are our cashiers smiling when servicing our clients? Maybe not."
"Is our product display always fresh, interesting, and full of energy? Maybe not."
"Our problem was that our merchandise comprised old stuff, some were five to six month old. So, customers who came back to Ramayana would see old items and lose interest. This has pushed us to embark on transformation."
Interesting to note that CEO Agus Makmur openly gave credit for the turnaround to Jane Melinda Tumewu, the daughter of the company's founder and chairman, Paulus Tumewu.
"The phenomena of flat sales growth that has been haunting our business in the past few years has been dealt with, and the credit belongs to our General Merchandise and Marketing Manager, (the daughter of Paulus Tumewu) Jane Melinda Tumewu."
"Before, our selling process raised furore, but now we do (more) interesting events with top celebrities such as Raffi Ahmad and Nagita Slavina, who attract big crowds to our stores…"
Other interesting quotes from Ramayana 2016 annual report:
On competition from minimart chain:
"…the emergence of minimart chains in the neighbourhood, such as Alfamart and Indomaret, means that urgent customer needs can be fulfilled without them having to travel far. These (minimart) chains took advantage from the big retailers like Ramayana. Spending in these chain stores also means that there is less budget available (for Ramayana)."
On tech disruption:
"Globally, retailers are facing a big shift, thanks to cultural changes (like better education and the emergence of the female customers) and in particular technological progress…"
"Indonesians are addicted to social media; we are the second largest users of Facebook after the USA"
"Naturally, Ramayana would like to exploit new internet-based media, without having to suffer big losses like experienced by others, that will be a good defence, in case our customers are moving away to online channels.."
Some Indonesian tech companies were also mentioned in this annual report (they are watching): mataharimall.com, bukalapak.com, Go-jek, GrabBike, and Uber.
On how mass market consumer class has evolved:
"Ramayana has undertaken a radical adjustment towards a new reality of a much smarter and richer mass market consumer class, compared to a few decades ago."
On better layout and display:
"Our store upgrades cover display renovation, lighting, toilets, and other facilities. Over the years, our ageing outlets came to appear run down…"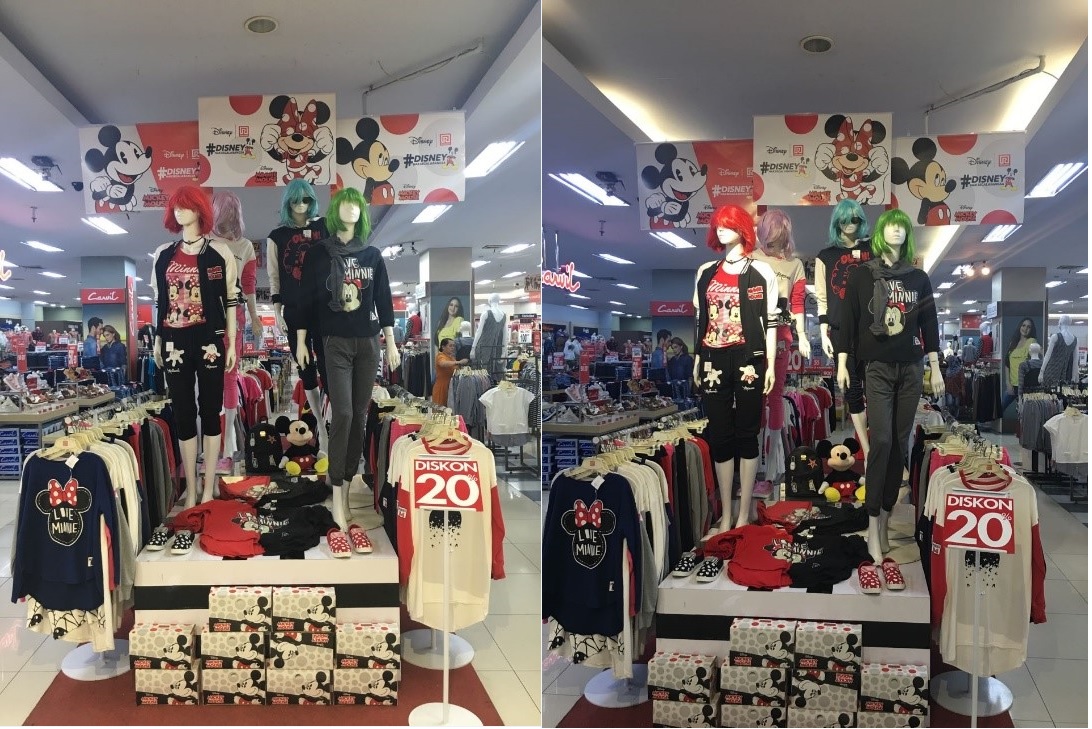 Display with lights off (left); Display with lights on (right). Turning around yet preserving good old core value. Obviously, the product display looks much better with the lights on, but it also costs more. The store manager of Ramayana Cengkareng chooses to turn the lights on during the busy hours with meaningful traffic.
With their awareness of the core issues and challenges – and currently having the second generation's mindset more in tune with the millennial target market – now it all comes down to execution.
We will track the progress closely. For sure, big challenges and opportunities ahead.