There must be something in the water in Indonesia. Because in the span of just three years, the country managed to produce four unicorns – startups the have reached at least US $1 billion in valuation.
Young people creating new businesses at scale is relatively new in Indonesia, as for decades, Indonesia's formal economy was dominated by few incumbents. After the country's independence in 1945, cronyism ruled as the prosperity of individuals remained highly dependent on personal relations with leading members of the government.
The shift from oligarchy to unicorn maker is remarkable, driven by the unique combination of a supportive government, the public's increased access to technology, and the youth's growing desire to launch their own business ventures.
Power in the Hands of Few
During the era of President Soeharto, the South East Asian nation saw the rise of politically connected companies who, together, came to control most of the formal economy.
Despite deregulations that had monopolies and privileges revoked in the late nineties, the political and economic systems of Indonesia still have features of an oligarchy today.
In 2014, for example, the four largest privately-held Indonesian conglomerates that have assets listed on the Indonesia Stock Exchange (IDX) are the Astra Group, Salim Group, Lippo Group, and Sinar Mas Group. Combined, all listed companies controlled by these four groups accounted for 17.50% of total market capitalisation on the IDX.
In addition, with 25.84% of total market cap, state-controlled listed companies (SOEs) also remained dominant players in the country's economy.
Because of all these factors, middle-class hopes for a stable income and secure future have typically rested on a job as civil servant, which guarantees life-long employment and an early pension – not exactly an environment that cultivates innovation. However, things are now changing in Indonesia.
Tech Offering Opportunities to Many
Not only is the country's current president, Jokowi, the first president who doesn't belong to the traditional political, religious, or military elite; Indonesia's tech scene is also rapidly transforming the playing field for aspiring entrepreneurs.
Young entrepreneurs are breaking through barriers on the back of tech, connectivity, and a supportive government. The proliferation of smartphones and the creation of digital applications has enabled young entrepreneurs to by-pass the existing SOE- and conglomerate-dominated market structures and spawned four unicorns in just three years' time.
We're talking about ride-hailing company Go-jek, travel site Traveloka, and market places Bukalapak and Tokopedia. New unicorns are expected to rise in the underdeveloped education and healthcare sectors, with the potential to leapfrog Indonesia's development.
With Help from The Government
This, of course, could not have happened without a supportive government. While governments in other countries like Hong Kong prohibited ride-hailing companies under the pressure of incumbents, the Indonesian government resisted such pressures and tried to balance the needs of both the public and the drivers.
To further support Indonesia's digital ecosystem, the government also developed several programmes. These include SMEs Go Online; Farmers and Fisherman Go Online; and Nexticorn, which aims to provide start-up founders with access to suitable investors. The government also pledged to strengthen its e-commerce roadmap and digital certification this year.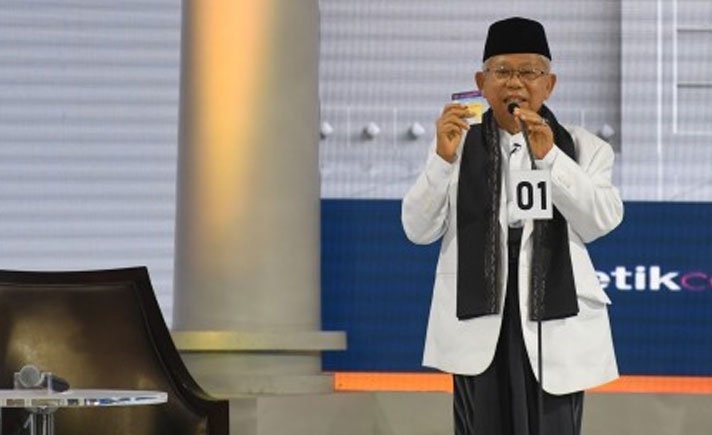 76 year old muslim scholar, Jokowi's Vice President-elect, Maruf Amin mentioned that Indonesia soon will have a decacorn (a start-up valuation with over US$ 10bn).
Source: Tribunnews
The role of Indonesia's government has shifted from being just a regulator, to now more of a facilitator.
Looking to the Future
The success of tech in the country has inspired many, initiating a positive feedback loop. In economic literature, entrepreneurs not only bring new goods to the market, but also generate information about the profitability of new activities. And in Indonesia, the four mentioned unicorns have fueled optimism over the digital economy, inspiring the Indonesian youth and attracting investors in the process.
Mobile commerce start-ups now rank as the best companies to work for among millennials. In addition, according to a 2018 survey by IDN Research Institute, a staggering 69.1% of millennials want to be entrepreneurs. And according to the Ministry of Cooperatives and SMEs, Indonesia's entrepreneurship ratio doubled from 1.55% in 2014 to 3.1% in 2017.
All of this means good news for aspiring entrepreneurs with innovative ideas looking to launch, as well as existing business owners hoping to expand. For us as investors this implies that we need to carefully consider the vulnerability of indonesia's incumbent conglomerates and SOE's, as well as the opportunities that Indonesia's youth are bringing to the table.
Indonesian Millennial Superheroes: William Tanuwijaya (Tokopedia), Diajeng Lestari (HijUp), Jonathan Sudharta (Halodoc), and Nadiem Makarim (Go-jek)
Source: Kalimat.id, Moneysmart.id, Otcdigest.id, vbprofiles.com