As the world become increasingly reliant on the connection to the Internet to function, the current infrastructure such as cellular, Wifi, and Bluetooth coverage could be suboptimal, especially when many places today still do not have a reliable mobile network (if at all), let alone the high costs faced by users.
According to a report released by GSMA in February 2022, there are 4.2 billion mobile internet subscribers worldwide by the end of 2021, representing 53% of the world's population. Around 450 million people globally still live in areas without access to internet services. In addition, data collected by SpendMeNot shows that people in the world, on average, spend $8.53 for 1GB of mobile data. In some countries in Africa, a gigabyte of data can cost a staggering $50!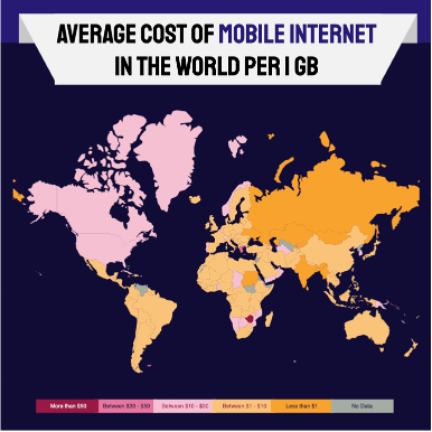 Source: SpendMeNot.com
As an increasingly commoditized business, telecom operators are facing decreasing revenues from voice services and increasing costs due to the high bandwidth demands, there is a need for them to both reduce costs and find new sources of revenue. As a result, these operators have reduced their efforts at expanding coverage to underserved communities in disconnected areas – in semi-rural regions and urban outposts.
Given operators in this oligopolistic industry have no commercial incentives to invest in disconnected areas, and together with the emergence of blockchain technologies, groups of individuals have taken the matters in their hands and attempt to democratise mobile network service.
Helium is one of the blockchain protocols building a decentralised wireless network. It expands a crowd-sourced, self-funding global LoRaWAN infrastructure, where data transactions are immutable in blockchain ledgers. The LoRa technology in the sub-GHz unlicensed spectrum (beneath the GSHA licensed spectrum of 3G, 4G and 5G) allows for a wide range for very small data transfers. The Helium network applies this technology to a multitude of peer-to-peer 'hotspots' that allows users to host wireless devices on their network and earn cryptocurrency (HNT, Helium's own currency). The more a hotspot is used, the more HNT tokens it generates. In just two years, Helium has expanded to over 850,000 hotspots in around 64,000 cities in 177 countries. And for consumers who use the Helium network, they pay for use in data credits that are valued in HNT.
Despite trying to democratise internet connectivity, Helium does come with its limitations. Right now, most hotspots are in high density cities, making it less useful for people in more remote areas where the coverage gap remains. A Helium miner cost varies depending on its make, region, and provider. The price point of most hotspots rests in the $500-$1,000 range. Therefore, it can be a major investment for an individual consumer, profitability may only come in the long term.
Our thoughts on how telecom operators can leverage blockchain technology
Helium is a proof of concept that blockchain can be applied to mobile network and solve some of the long existing problems faced by consumers. With such evidence, we wonder if, with the right economic incentives, would telecom operators be able to better capitalize the blockchain technology and more effectively resolve the mobile bandwidth coverage gap issue? Therefore, we let our imagination to run wild and propose another idea of how blockchain and mobile network can be combined.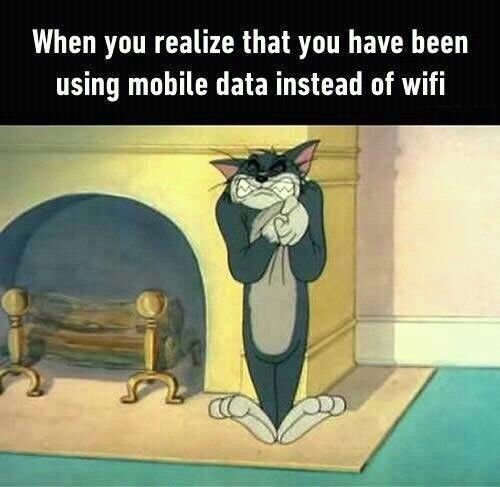 Image credit: Lasani Logistics, Pinterest
Consider a mobile device embedded with micro mining capability to host hotspots, where there are nodes that simultaneously mine tokens for building and securing permissioned network, while providing connectivity to nearby devices. In return for purchasing the device and contributing to the network, users may enjoy free (or much cheaper) mobile network service. With the broad customer base that telecom operators already own today, an extensive network can be established swiftly, as compared to a blockchain protocol which requires building a network from scratch.
From operators' perspective, in addition to taking advantage of a more robust and secured network, operators may also benefit from substantial costs reduction by eliminating intermediaries. For example, roaming settlement costs can reach 15% of operating profits from providing communication services for a telecom operator, mostly spend on data clearing house and also on roaming software solution. With blockchain technology, every pair of operators with a roaming agreement could be connected peer-to-peer via two nodes on a network, eliminating the need for a clearing house and for licensing end-to-end roaming software. Overall, this creates a win-win situation for both the operators and end users by reducing costs faced by both parties.
Besides providing cheap and secured mobile network using blockchain, there are other use cases for the telecommunications industry. They include:
There are many ways in which a subscriber's identity can be compromised. Public-private cryptography which is inherent in a blockchain can be used to identify a device and link that device to a subscriber's identity. As such, a subscriber can be uniquely identified by a public key generated by the device. This public key can be used to authorize the device on the network while keeping the private key information confidential. In this way, the services can only be used by the subscriber who has subscribed to the mobile network services and the ID cannot be easily stolen.
A blockchain can be used as a shared ledger that stores identity transactions. A telecom operator can create a virtual identity for its subscribers when they open an account, every time the subscriber wants to visit a partner website, e.g., an e-commerce site, a copy of the ledger entry can be sent to the e-commerce site, the site can use the public key from the virtual identity to obtain the information related to the identity. Not only does Identity-as-a-service creates an additional revenue stream for the telecom companies, but it also provides a secure transfer of data with third parties as well as convenience to customers.
Although the proposed idea remains to be theoretical, it demonstrates the vast amounts of applications that blockchain technology may deliver across the telecommunications industry, enabling operators to offer utilities which were previously non-viable without blockchain technology. Comment below to let us know your thoughts on the application of blockchain in the telecom industry!
Reference:
The Mobile Economy 2022. GSM Association
Petrov C. (2022). Mobile Data Cost Around the World. SpendMeNot.
Helium Explorer
Helium Network: How much does a Helium Miner Cost? Emrit.
Blockchain @ Telco: How blockchain can impact the telecommunications industry and its relevance to the C-Suite. Deloitte.