While China's push in technology is hardly news, its rising tensions with the West have sped up their need to become less dependent on foreign technology. In its 14th Five-Year Plan on Digital Economy, China's leaders emphasise, once again, their ambitions for the country to seize the leading position in the global technology race. The plan highlights China's intention to boosts its global competitiveness in advanced technologies such as semiconductors and artificial intelligence. And blockchain was listed as a "key digital technology" alongside AI and cloud computing, which we coined as the "ABC".
China's Ambition in Blockchain Begins with Digital Currency
Over the past decades, China's technological advances have mixed performance. While leading in 5G deployment, it lags behind western countries in technologies with more strategic positions, such as artificial intelligence and semiconductors. The catch up race has been painful and costly.  However, China may have indeed established a strong head start when it comes to blockchain.
While the initial concept of blockchain technology is underpinned by its decentralised nature, China's version is different. It is a centralised operation which guarantees complete state control over the development and application of the technology. China's drive for blockchain technology goes beyond economic ambitions. The technology essentially allows for effective government surveillance capabilities at both micro and macro levels.
The Chinese government has been investing in the financial application of the blockchain technology. The development of the digital yuan is among the core strategic priorities. The large scale domestic rollout of the digital yuan would align with Beijing's push for financial security. The use of its CBDC not only increases its ability to monitor financial activity and tackle illicit activities, it provides Beijing an independent source of valuable customer data, meaning they will no longer need to obtain customer information from payment companies to monitor citizens' transaction.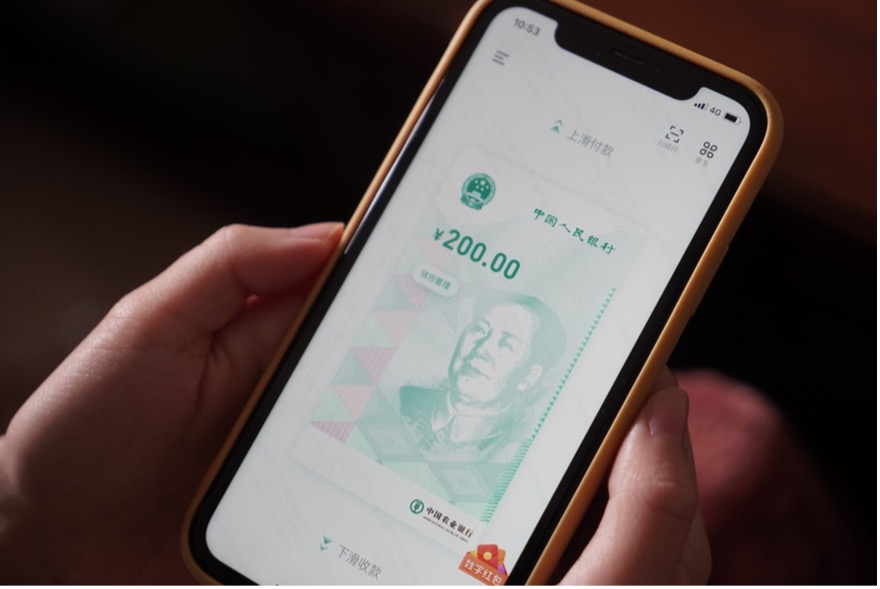 Image credit: TechNode/Jiayi Shi
But the Ambition Goes Far Beyond Digital Currency
The digital yuan is positioned to serve as the infrastructure for the country's international economic agenda which is underpinned by the expansion of a China-centric digital ecosystem that encompasses technologies such as 5G, IoT, AI and big data. And since blockchain run on the internet, it is imaginable that China will try to control the underlying  communication protocol, domestic national cloud infrastructure and AI at the same time. However, the government is having a difficult time censoring and controlling the exchange of information between computers due to the distributed nature underpinning TCP/IP (transmission control protocol/internet protocol), the communication protocol that governs how data moves around the Internet.
Noting this stumbling block, Huawei proposed the "New IP" to replace TCP/IP. The New IP proposal emerged at a 2019 meeting of the International Telecommunication Union, a UN agency responsible for all matters related to information and communication technologies. The New IP is designed to offer more efficient addressing and network management than the existing TCP/IP standard, but it is likely to come with hooks that allow authoritarian nations to censor and surveil their residents, including features such as a "shut up command". The new model is said to replace current centralised parts of the internet, such as Domain Name system (DNS), with Distributed Ledger Technology (DLT) solutions. However, as aforementioned, the blockchain technology proposed by China is likely to differ from commonly known definition of the technology, decentralisation is out of the question in China, but advanced adoptions of the ABC can be expected in areas ranging from energy conservation to urban management and law enforcement.
Cities of the Future
The government sees blockchain as a key pillar of its smart city infrastructure initiative that is currently being built across China. A smart city is an ideological term that refers to the development of cities that utilises advanced digital technologies including the likes of blockchain and IoT, as well as robotics and AI to optimise urban management and services including road network management, public health, energy generation, communication and food safety.  Local tech giants including Alibaba and Tencent are also heavily involved in supporting the development.
At present, there are 11 regions in China using blockchain technology to build a smart city system. Among them, the Xiongan New Area (possible future capital) was the first to be transformed into an intelligent city prototype. In 2018, Ant Financial, serving as the core blockchain technology provider, launched the blockchain rental application platform in Xiongan. This means that individuals will have their own credit score based on their rental related record. Blockchain also became an integral part of Shanghai's smart city program, where it helps to collect and store vast quantities of data to assess optimisation levels for garbage classification management. The blend of blockchain with other technologies within the smart city ecosystem is likely to expand as China's ambitious aspirations to take the lead on blockchain meets its equally ambitious aspirations to accelerate itssmart city development.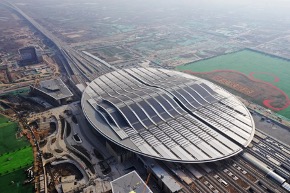 Xiongan Railway Station of the Beijing-Xiongan intercity railway in Xiongan New Area, north China's Hebei Province.
Image credit: Xinhua/Xing Guangli
Invest in the ABC Before They Change the World
The above are only a few examples among the many use cases of blockchain in China. The Chinese government's approach towards blockchain and its integration with other cutting-edge technologies provides it a first-mover advantage over other countries that are yet to make a move in this field.
Having said that, it may be many years till the country reaches notable success in the advance technology sphere given it is still far from technological self-sufficiency and remains reliant on foreign technologies such as chips design and manufacturing. China will likely face stiffer challenges in acquiring foreign technologies such as on semiconductors due to growing western consensus to curb its access. Its roadmap to becoming a global leader in critical technologies of the future will require the integration of advanced technologies which will be crucial to the development of other advanced industrial sectors. As such, the ABC strategy may present profitable opportunities in years to come as countries increasingly dedicate resources in technology sector as part of their national strategic plans.